This is a Sponsored post written by me on behalf of Scotts Miracle-Gro. All opinions are 100% mine.
From the very first time we pulled into the driveway and took our first walk-through of the house that shortly-after became ours last year, I have some major plans for the yard, including expanding what had already been designated the "garden space." Fortunately for us, the yard had been very well taken care of and had a lot of beautiful plant life to begin with, but a lot of work still had to be done. For the most part, we stuck to keeping our yard well maintained last year while learning all we could about our yard, gardening, and what it really takes to keep up with everything–lessons that I plan to put to work for an even more beautiful and less-exhausting season this year.
By far the biggest gardening nuisance is dealing with weeds. In fact, I am certain that weeds are one of the environment's cruel jokes aimed at humans everywhere who strive to keep their spaces looking trimmed and beautiful. If you don't keep up with the weeds growing in your garden or around your landscaped areas almost obsessively, they will overrun your entire space before you even realize what just happened.

There was a garden here once!
I looked at a lot of weed killers while doing my initial spring shopping to get the gardening supplies I would need to begin work in my garden for the season. However, I have always been very much against using them because of the harsh chemicals they contain, as well as the fact that while they are busy killing weeds, they perform double-duty by killing everything else, too. And then I started looking at different types of mulch, a sustainable gardening tool that can help combat weeds without having to worry about harsh chemicals being transferred to the soil and into plants, flowers, or vegetables.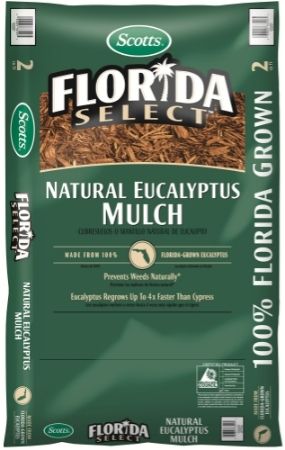 If you live in Florida and are looking for sustainable gardening products that can help keep the weeds cropping up in your outdoor spaces at bay, check out Scotts Florida Select Natural Eucalyptus Mulch, a sustainable Cypress alternative that is grown in Florida, for Florida.
Eucalyptus mulch is made from sustainably-harvested, plantation-grown Eucalyptus that re-grows up to four times faster than Cypress. It is able to prevent weeds naturally by blocking the weeds from access to sunlight, and by extension, growth.
Scotts Florida Select Mulch is easy to use around trees, shrubs, flowers, and vegetables after seeds have germinated and plants have developed. Just spread the mulch around your outside areas 3-inches deep and be sure to keep it several inches away from tree trunks, house foundations, and other wood structures.
For those who don't live in Florida, Scotts still has you covered. Try Scotts Nature Scapes mulch made with no-waste wood and natural forest products. It is available in a variety of textures and in three different colors: Classic Black, Sierra Red, and Deep Forest Brown, so one of them is sure to match the landscaping you may already have started in your yard.
Do you have any gardening and landscaping tips for keeping weeds away?