This is a Sponsored post written by me on behalf of Walmart. All opinions are 100% mine.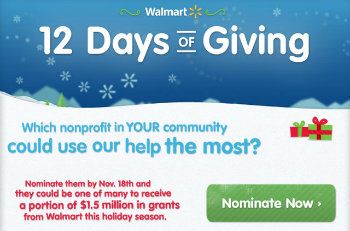 Each and every holiday season, we are reminded of the extraordinary power of giving. Whether it be by giving money, making time in our own hectic schedules to volunteer, or by purging our closets of clothes we haven't worn in years to give to a local shelter, giving is always beautiful.
One act of selflessness can have more of a positive effect on someone, or even countless people, than we could have ever thought possible in our one simple act. Walmart recognizes the importance of giving to those in need, as well as to nonprofit organizations dedicated to having a positive impact in people's lives.
During Walmart's 12 Days of Giving, the company will award many nonprofit organizations with grants totalling $1.5 million. This money will help those organizations continue to be able to help provide basic need items like food, diapers, coats, baby formula, and other cold-weather clothing to those in need.
From now until November 18th, you have the power to nominate your favorite local nonprofit that is doing amazing things within your community. To nominate a nonprofit, just visit the 12 Days of Giving Live Better Facebook app. When you click on Nominate Now, you can fill in the information about the nonprofit you are nominating, including:
Nonprofit name
Nonprofit address
Nonprofit phone number
Nonprofit website (if applicable)
A photo of the nonprofit (optional)
In 200 words or less, detail the nonprofit's impact on your community
I nominated the Women's Resource Center of NEPA, a nonprofit organization founded in 1976 to serve survivors of domestic violence and sexual assault in northeastern Pennsylvania while working to end domestic and sexual violence through advocacy, education, and social change.
Working to end domestic violence and sexual assault is a worthy cause in itself, but I have a very close connection to the Women's Resource Center of NEPA because they helped save my life, and then worked to help me make that life easier to live.
I am a survivor of childhood sexual assault, child abuse, and rape that has left me battling with depression and Post Traumatic Stress Disorder as an adult; I was also a self-mutilator for 12 years as a teen and young adult.
When I was 18 years old, deep within the throws of my depression, I became extremely triggered and my mental state went from simply being severely depressed to having suicidal thoughts. I was living in my very first apartment, I was alone, and I had barricaded myself in a closet where I proceeded to scream at the top of my lungs for I don't even know how long. I called the RAINN hotline, which I had known about for years but never actually called. They automatically put my call through to my local rape crisis center–the Women's Resource Center of NEPA. Not only did the woman I spoke to help me through waves of panic attacks, she also asked if I was able and willing to go to their physical location in order to speak to someone one-on-one in person.
That same day, I sat down with a woman who had over 25 years of experience working with survivors of domestic violence and sexual assault. For a little over a year, this woman became my lifeline. She was my reason for willing myself to leave the house twice a week, even though I had become so comfortable in my hermit shell of self-loathing; she was the person I called whenever anything in my life was less-than-ideal, whenever I was triggered by something, or whenever anything in my life changed, as I could not handle change in any form. She motivated me and assured me and ultimately, she gave me the tools I needed to effectively cope with my childhood and get on with living my adult life, not free of the mental effects my set of circumstances have had on me, but learning to work within them.
The Women's Resource Center of NEPA invested in me and my well-being. They showed me that people care if I was around, and they taught me how to see my worth, how to have dignity, and how to be enough for myself. They taught me how to live my life, and I cannot ever even begin to repay them for that. I can, however, nominate them for a portion of $1.5 million so that they can continue to do amazing work and help many more women just like me for years to come.
Help Walmart help a local nonprofit doing amazing things in your community. Who will you nominate?